Rocket Mortgage FieldHouse announces new food lineup... - Article from News 5 Cleveland



Smokehouse Restaurant At The Rocket Mortgage FieldHouse


LIVE on The Food Network
"A PASSION FOR BARBECUE"
I have always been passionate about what I do. Blocking shots on the basketball court was only part of what made the game great. It was the feeling that I was doing what I was meant to do that fueled the fire back then and it's what fuels the fire today. Today I can't jump quite as high as I did back then, but back then I couldn't barbecue as well as I can today... it's a great trade off, huh?

ELMORE SMITH'S BBQ was founded as a way for me to share the sauces that made my friends across the country go "WOW". I've done a lot of barbecuing since I retired from the NBA. The company I founded was founded on principles, passions and love of crafting great sauces. It does not bend to shareholders (Elmore Smith's BBQ is privately owned) or the whims of a national marketing team. It responds to you, the consumer. Our mission is to make the best, we can leave the mass produced sauces to the other guys.
ABOUT ELMORE SMITH...
NATIONAL BASKETBALL ASSOCIATION (NBA)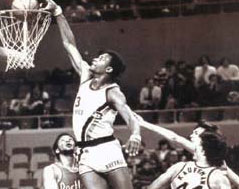 I played professional basketball in the NBA from 1971-1982. I retired in 1982 due to a sports injury. I played Center my entire career which was fortunate enough to include great teams such as the Cleveland Cavaliers, Milwaukee Bucks, Los Angeles Lakers and the Buffalo Braves, who are now the L.A. Clippers.

Named NBA Blocked Shots Champion of the Year in 1972 - All NAIA Champions - All American by the Associated Press.

Elmore Smith is in the Smithsonian!
ADDITIONAL NEWS AND PRESS COVERAGE

On October 11, 2019 Elmore Smith will receive a Presidential Citation for Excellence from Kentucky State University.

On November 2, 2017 Elmore Smith was inducted into the Small College Basketball Hall of Fame.





The Class of 2017 includes the following inductees:

Zelmo Beaty
Walt Frazier
Emil Liston
Bob Love
Coach Don Meyer
Coach Dave Robbins
Jack Sikma
Elmore Smith
Jim Spivey
Rico Swanson
George Tinsley
Al Tucker


The Macon, Georgia Sports Hall of Fame inducted Elmore Smith for Outstanding Contributions in Basketball on May 17, 2012.

"Smith was a block chairman" as seen in the Los Angeles Times.

Elmore Smith Joins Georgia Sports Hall of Fame

This Day in Buffalo Sports History





Elmore and his gourmet sauces


Elmore and Jessica P. Smith


Former Cavaliers at the Cleveland County Fair


Elmore's interview at the Rocket Mortgage FieldHouse


Elmore with daughter Tracy at a sauce demo


Buffalo Wing King Drew Cerza with Elmore Smith


Elmore Smith Cleveland Cavaliers MVP 1977-1978


Elmore Smith


Elmore with the Lakers 1974


Elmore Smith vs. Bernard King


Elmore Smith vs. Bill Walton


Elmore Smith vs. Dave Cowens


Elmore Smith vs. George McGinnis


Elmore Smith vs. Kareem Abdul-Jabbar


Elmore Smith vs. Wilt Chamberlain


Elmore Smith vs. Dave Cowens


Elmore Smith vs. Wilt Chamberlain


Elmore Smith vs. Dan Issel


Elmore Smith vs. Atlanta Hawks in 1972


Lake County Captains
NOW AVAILABLE AT THE
ROCKET MORTGAGE FIELDHOUSE
VISIT US AT
ELMORE SMITH'S SMOKEHOUSE RESTAURANT